Artist Statement

I work with a variety of media in performance and/or installation settings. Influenced by my background in dance making and fascination with movement, my work crosses disciplines of choreography, video and live art practices.

Shaping fleshy moments created by choices made in improvisational performance contexts, my artistic research often explores a threshold moment before gesture manifests itself in the material world, a temporal geography ripe for engaging the imagination of both the audience and performer. I am fascinated with intimacy & distance and by what I do not know.

It is at this juncture that I investigate consciousness through somatic inquiry; my curiosity leans toward the regenerative, inviting a heightened awareness of self, other, and environment by purposely shifting states of mind/body.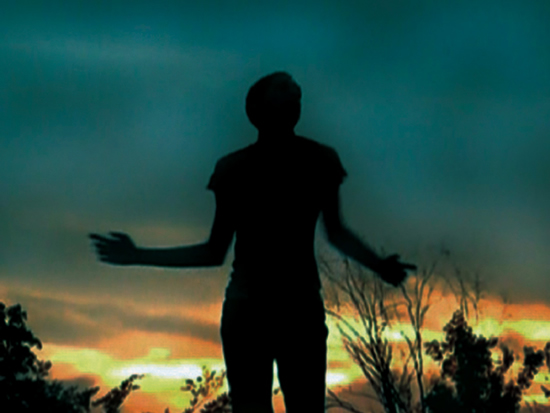 Framing Gesture of Imagination
Currently, in collaboration with a spoken word artist, our questions are prompted by an attraction to thresholds & spaces of 'in-betweens'; settings where body, text, and sound either collide or shimmer together.
This collaboration has evolved from a live performance event, originally for the stage, into a single channel video called the
Gesture of Imagination
.
A meeting of matter and energy – structure and process
Spoken poetry as viscera, arriving in space.
The body articulating what it does not yet know.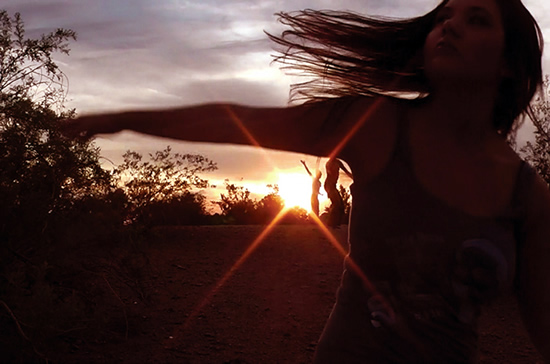 Further exploration of ideas about consciousness and the New Physics led to the performance's morphing into a kinesthetic poem for the screen. As a video, it has become an imaging of potentialities between light, matter, our relation to our selves, to one another, and our environment – a constant shifting and yet, the desire to hold onto moments in time - memory.
Frenetic movement and sound is blurred with stillness and silence at junctures, which metaphorically image possibility and the freedom to change. This emphasizes the brink of negotiation between the real and the imagined - bringing attention to the pause flanked by stimulus and response, where imagination is poised.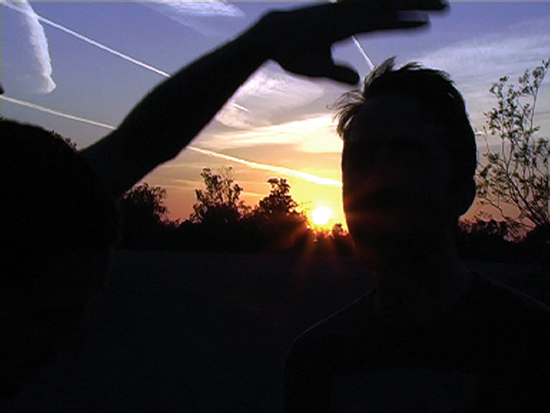 Questions and Progression
I envision eventually generating a collection of compact video events taking place in local desert surroundings. I aim to bring their essences into a longer film or installation.
Sketches of our somatic inquiry via the intimacy offered by the medium of video offer provocative parameters in which to generate, grow, evolve, and disintegrate gesture in movement and sound/text – Is there healing offered through the imaginary 'world' shared in the video – a calming of the senses – restoration of the nervous system through a use of meditative time in sound, text, movement – what is seen and not seen? – heard and not heard? – felt and not felt at the edges of the frame?
Relocating all of the disciplines to a desert environment amplifies the borders between each of the mediums. There is potential for change through experiencing a shift in perspective. The self might move aside revealing unrecognized liberties – choice. Could this perhaps reveal the particular urge or motivation flickering behind the instant when gesture in movement, text, and sound become manifest? Can it accentuate what is left behind, thus inviting the imagination of the viewer to fill- in or participate with renewed sensory awareness - non-linear, associative, and spacious?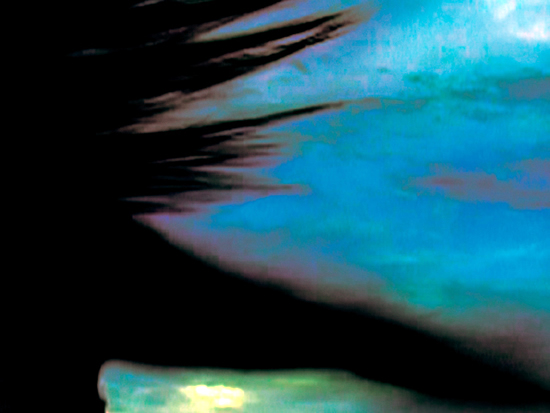 The filming occurs at the borders of day and night –from sunset to darkness, emphasizing the spectacle of an everyday transition occurring in nature. This shifting light is a technical challenge to the camera aperture and lens, yet advantageous in terms of its possibility to offer a fresh viewpoint.
Can this hazy perspective provoke for the viewer a joyous 'dip' into the unknown? This is terrain of the mind's eye – unbound, like the desert – a unified 'field of all possibility'.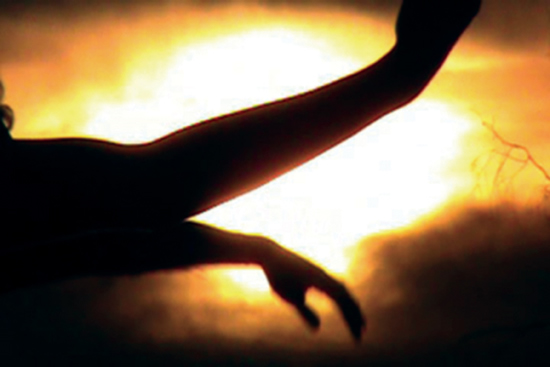 Contributors to the research and video
Concept, Direction, and Edit – Eileen Standley
Spoken word poet – Eden McNutt
*Dancers – Anthony Gonzales, Amanda Ling, and Kris Pourzal
Music – Yannis Kyriakides and Andy Moor
Camera - Inkyung Lee and Eileen Standley
Gesture of Imagination
is on exhibit at the Linus Galleries in Los Angeles. It was also selected for presentation at the 2013 Videoholica Festival in Varna, Bulgaria, as well as the International Festival of Dance and the Moving Image (IDN) at the Mercat de les Flors Theater in Barcelona. Earlier in the year it was chosen for the Institute for Humanities Art Show "Imaginatio(n)ow" at Arizona State University. And in October 2012 presented within the Extending Gesture Colloquium at Edinburgh University, Scotland.
The live performances of the original piece were entitled
Atlas 0 – Ariadne 1
and premiered in Arizona State University's Galvin Theater and the ASU Night Gallery within the School of Art Faculty and Alumni show celebrating the work of John Cage.
*Dancer Corinne Bocchino also performed in the onstage version of the piece.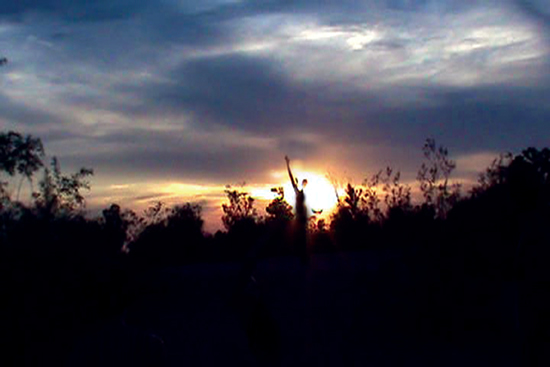 ---
Eileen Standley
is a Clinical Professor on the faculty at the School of Dance – Herberger Institute for Design and the Arts – Arizona State University.