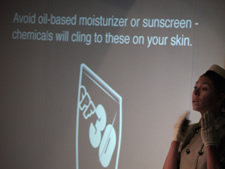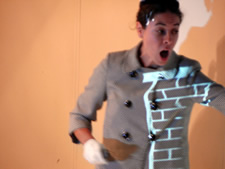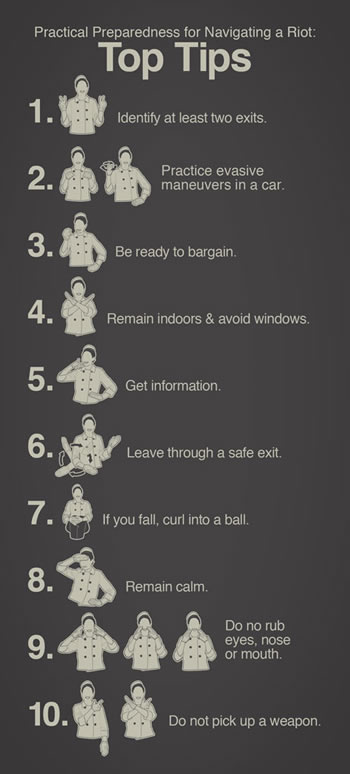 Practical Preparedness: Video Performances
By blurring the line between fact and fiction, my
Practical Preparedness
series of videos explores preparedness and fear in our society, while addressing the everyday challenge of resisting change and maintaining control.
The series focuses on the fear generated by a chaotic world of non-stop technological revolution, impending global climate change, and hyperactive news media. I use humor and absurdist situations as a method for dealing with these challenging topics in an indirect way, resulting in an element of escapism. Two of these videos, "Evacuation" and "How to Preserve a Severed Limb," are presented below, following the video of the live performance of "Navigating a Riot." At the bottom of the page, you can find a link to the full collection of Practical Preparedness videos.
My goal is to bring awareness of this resistance to change and fear of the unknown to the forefront of participants' minds, while actively engaging individuals' personal experiences.
Live Performance
This live performance (below) of "Navigating a Riot" was recorded during "Micromanagement," an evening of performance curated by Sean Fletcher and Isabel Reichert, on October 15, 2011 at the Performance Art Institute in San Francisco.
The performance consisted of a PowerPoint presentation covering step-by-step instructions for navigating any riot situation, an instruction card (reproduced at left) for each audience member, and audience participation. I performed as the helpful "Practical Preparedness" guide from my series of videos of the same name. After delivering the presentation, I told the audience to take up their instruction cards and to follow along with basic movements as we went through the top ten tips for navigating a riot.
»
Full collection of Practical Preparedness videos
(vimeo)
»
Ellen Mueller's website
---
»
Ellen Mueller
has exhibited nationally and internationally as an interdisciplinary artist exploring the shared, everyday challenge of resisting change and maintaining control. She creates experiences that engage the cultural conscience of the audience, while addressing social and political issues through image, performance, and installation. She currently lives and works in Buckhannon, WV as an Assistant Professor at West Virginia Wesleyan College. She received her MFA in Studio Art from University of South Florida. She earned a BA in Theatre and Art, and a BS in Design Technology from Bemidji State University. Additionally, she has obtained training at Dell'Arte International and the Brave New Institute.
Recent exhibits include
9/11 Ripple
at CNN.com,
Starting Fires
at University of South Florida Contemporary Art Museum in Tampa FL, and
VIDEOHOLICA
in Bulgaria. Recent artist residencies include Vermont Studio Center where she received an artist grant, Ucross Foundation (May 2012), and Santa Fe Art Institute (June 2012).