» read essay
Memoration #2: Constituent Parts (Part One)
Time-lapse videographer: Mickayla Pike
Video Editor: Leah Decter
Memoration #2: Constituent Parts (Part Two)
Videographer: Clive Robertson
Video Editor: Leah Decter
Memoration #2: Constituent Parts (Part Three)
Videographer: Clive Robertson
Video Editor: Leah Decter
Poster for Performance: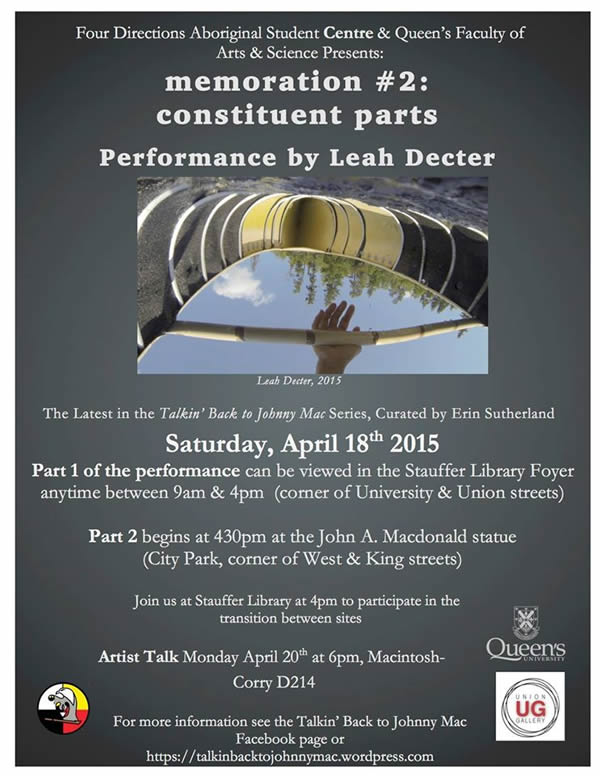 Additional Links

» Who are the Métis?
» Convention on the Prevention and Punishment of the Crime of Genocide: Article II
» Crown Lands Act; chapter 114, Revised Statuses, 1989.
» Crown Land
» Aboriginal Affairs and Northern Development Canada

John A MacDonald Bicentenary celebrations:

» City of Kingston

Policies relating to John A Macdonald:

The Indian Act of Canada:

» Chapter 18: An Act to amend and consolidate the laws respecting Indians
» 21 things you might not know about the Indian Act

Indian Residential Schools:

» University of British Columbia: Indigenous Foundations.
» The Legacy of Hope Foundation.
» Milloy, John S. A national crime: The Canadian government and the residential school system, 1879 to 1986. Vol. 11. Univ. of Manitoba Press, 1999.

Chinese Immigration Act ( AKA- Chinese Head Tax):

» Time Portals: Human Rights in Canada: A Historical Perspective.

Starvation Policies:

» Daschuk, James William. Clearing the plains: disease, politics of starvation, and the loss of Aboriginal life. Vol. 65. University of Regina Press, 2013.Daschuk, James William.


---
Leah Decter
is an inter-media artist and scholar based in Winnipeg, Canada—Treaty 1 territory. She holds an MFA in New Media from Transart Institute (Berlin) and is currently a PhD Candidate in Cultural Studies at Queens University (Kingston, ON). Decter has exhibited, presented and screened her work widely in Canada and internationally in the US, UK, Australia, Germany, Malta, the Netherlands and India. Her most recent writing has been published in
The Land We Are: Artists and Writers Unsettle the Politics of Reconciliation
(2015) (chapters co-written with Ayumi Goto and Jaimie Isaac respectively). In 2014, her ongoing dialogic art project (official denial) trade value in progress (co-activated with Jaimie Isaac) was featured in
Studio: Craft and Design in Canada
, and the
Journal of Canadian Art History
.