Intro

Unified

God's Work [feat. Worldwide]

Soldaderas (Her Ambition) [feat. Joe Lee McCoy & Ray C]

Michelle Alexander

#RTM [feat. Big Rube]

Own Gun

Home [feat. Treson Scipio & Georgia Me]

Don't Leave Me [feat. Jimi Starr]
»
download all tracks
[.zip]
---
AfroLatina/o Hip Hop Performance Pedagogy: Artist Statement on Third Root's Revolutionary Theme Music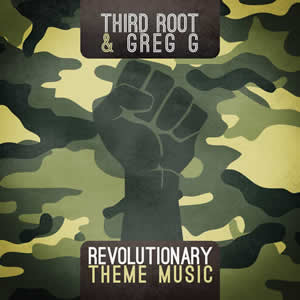 On our 2nd studio album
Revolutionary Theme Music
, as Third Root—Mex Step (Marco Antonio Cervantes), Easy Lee (Charles Peters), and Chicken George (Jeff Henry), with producer Greg G. (Greg Griffin)—we draw from histories of struggle and musical expression and add to current soundtracks for revolutionary consciousness through Black and Brown solidarity and Third World Liberation Movements for social justice. Our music works to confront racism, gender inequity, and class stratification to bring a greater awareness of systemic processes linked to marginalization and oppression locally and globally.
Recognizing the power of what Antonio Gramsci calls "cultural hegemony," we work to engage in performances that disrupt anti-Black and anti-Indigenous ideologies and uncover decolonial histories and expressions located in what Gloria Anzaldúa describes as the "borderlands" (216) and Emma Pérez calls the "decolonial imaginary," or in-between spaces where culture and identity are tested (5). Through borderlands frameworks, we practice Norman K. Denzin's notion of a "pedagogy of freedom" or "a way of acting on the world in order to change it," by musically shaking up oppressive power structures, including justice and academic institutions (228). Furthermore we engage in Black diasporic models of expression, situated on Ruby Patterson and Robin D. G. Kelley's (2000) and Paul Gilroy's (1993) politicized descriptions of oppressed people of African descent subjected to such conditions as "forced labor, racial oppression, colonial conditions, and capitalist exploitation"(2000, 307). Through Black diasporic performance, we strive towards an empowering "AfroLatindad" that employs diasporic theory to provide "historical agency of resistance and self-affirmation" among AfroLatina/os (Laó-Montes 118). As hip-hop scholars and pedagogues continue to apply hip-hop as a vehicle to critique social policies aimed at youth of color (Chang, 2005; Rose, 1994); promote critical literacy (Akom, 2009; Alim, 2007; Duncan-Andrade &Morrell, 2005); and increase student engagement and critical consciousness, (Mahiri, 1998; Stovall, 2006; Dimitriadis, 2001; Pardue, 2004); we formulate ways to engage in performance as pedagogy inside and outside of the classroom to bring forth empowered consciousness among the most marginalized in our communities.
On all songs in
Revolutionary Theme Music
, we attempt to bridge understandings of historical memories such as enslavement and murder of Black and Indigenous groups in the Americas ("Unified"); religion and colonization, liberation theology, and the importance of social activism ("God's Work"); the struggle of women of color within and outside activist feminist movements ("Soldaderas"); racial profiling, the failed war on drugs, and the school to prison pipeline ("Michelle Alexander"); social protest, protection, and knowledge as a weapon ("Own Gun"); the concept of home, displacement, Black diasporic movement, and memories of Africa and Aztlán ("Home"); and the importance of support, love, and self-care as activism ("Don't Leave Me"). Throughout the album, Third Root works to critically explore and unravel colonization implanted on Black and Brown subjects through decades of colonial imperialist conditioning and violence. Through words, melodies and beats, we explore Black diasporic histories and discussions of Black and Brown solidarity and interconnectivity in the US and globally; further, we aim to offer inclusion and pronunciation of Black and Indigenous histories for a more clear view of the effects of colonization, anti Black racism, and violence against Black and Indigenous peoples of the Americas, Asia, and Africa.
Works Cited
Akom, Antwi A. "Critical Hip-Hop Pedagogy as a Form of Liberatory praxis."
Equity & Excellence in Education
42(1) (2009): 52-66.
Alim, H. Samy. "Critical Hip-Hop Language Pedagogies: Combat, Consciousness, and the Cultural Politics of Communication."
Journal of Language, Identity, and Education
6(2) (2007): 161-176.
Anzaldúa, Gloria.
Borderlands: La Frontera
. San Francisco: Aunt Lute, 1999.
Chang, Jeff.
Can't Stop Won't Stop: A History of the Hip-Hop Generation
. New York: St. Martin's Press, 2005.
Denzin, Norman K.
Performance Ethnography: Critical Pedagogy and the Politics of Culture
. Thousand Oaks: Sage Publications, 1999.
Dimitriadis, Greg.
Performing Identity/Performing Text: Hip hop as Text, Pedagogy and Lived practice
. New York: Peter Lang, 2001.
Duncan-Andrade, Jeffrey M. R. and Ernest Morrell. "Turn Up That Radio Teacher, Popular Culture Pedagogy in New Urban School."
Journal of School Leadership
15(3) (2005): 284-304.
Gilroy, Paul.
The Black Atlantic: Modernity and Double Consciousness
. Cambridge: Harvard UP, 1993.
Gramsci, Antonio.
Prison Notebooks
. New York: International Publishers Co., 1971.
Laó-Montes, Agustín. "Afro-Latinidades: Bridging Blackness and Latinidad."
Technofuturos: Critical Interventions in Latina/o Studies
. Eds. Nancy Raquel Mirabal and Agustín Laó Montes. Lanham: Lexington Books, 2007.
Mahiri, Jabari.
Shooting for Excellence: African American and Youth Culture in New Century Schools
. New York: Teachers College Press, 1998.
Pardue, Derek. "'Writing on the Margins': Brazilian Hip-Hop as an Educational Project."
Anthropology & Education Quarterly
35(4) (2004): 411-432.
Patterson, Tiffany Ruby, and Kelley, Robin D. G. "Unfinished Migrations: Reflections 36 on the African Diaspora and the Making of the Modern World,"
African Studies Review
(43)1 (2000): 11-45.
Pérez, Emma.
The Decolonial Imaginary: Writing Chicanas into Histor
y. Bloomington: Indiana UP, 1999.
Rose, Tricia.
Black Noise: Rap Music and Black Culture in Contemporary America
. Middletown: Wesleyan, 1994.
Stovall, David. "We Can Relate: Hip-Hop Culture, Critical Pedagogy, and the Secondary Classroom."
Urban Education
41(6) (2006): 585-602.
---
Album Credits
All songs Produced and Mixed by Gregary "Greg G" Griffin for Golden Production except "Home" Co-Produced by Tony "L7" Jones
All songs composed and arranged by Third Root and Greg G
Trumpet by Karl Centeno ("Nikki Giovanni Poem")
Additional Background vocals by Andrea Sanderson, Desmond Fahie, and Debra Elena ("Home")
Recorded by Anthony Diaz DeLeon at Hollywood Studios (San Antonio, TX), Ruben Linder at The Living Room Studios (San Antonio, TX), Brad White at 2High Studios (Atlanta, GA), Josh Hack at VirtuoSound Studios (Canton, GA), Ali Friedrich at Super Mas Mejor Studios (San Antonio, TX).
Additional recording by Gregary Griffin (New York, NY), Rob Bass (San Antonio, TX), and DJ BrimLo (Austin, TX)
Mastered by Art Roebuck for HeartNSoul Productions (Smyrna, GA)
Art Direction: Hip Hop Grew Up
Art Design: Tosin for Sinful-Designs.com
Album Photography: Josh Huskin
Social Media Content and Photography: Francisco Cortes
Web Site: James Lewis for J12 Designs
Original Art Piece (Mixed Media) by Veronique Meggett for www.veryuniques.com
Booking and Info:
thirdroot210@gmail.com
Website:
www.thirdrootmusic.com
---
Marco "Mex Step" Cervante
s is an activist, musician, poet, educator, and faculty in the Mexican American Studies program at the University of Texas at San Antonio where he researches and teaches such topics as transculturation and shared spaces, Black and Chicana/o musicology, hip-hop studies, and performance pedagogy.
Charles "Easy Lee" Peters
is a poet, hip-hop artist, educator, and activist. He has published four books—
Perceptions
(1998),
Poetry H2O
(1999),
Down South Poets, Volume 1
(2001), and
The Last Poem on the Last Day
(2011). Peters is in the final year of the English Education program at Kennesaw State University and currently teaching at Osborne High School in Atlanta, GA.
Jeff "DJ Chicken George" Henry
blends multiple genres with a hip-hop sensibility to formulate his unique sound: Jazztronica! He resides in Austin, TX, and his style propels him to be a highly regarded and internationally acclaimed music force.
Greg G
(
website
) is a San Antonio producer, singer, songwriter, and hip-hop artist. His Dynamic Entertainment team has released five mixtapes, multiple solo albums, and produced local songs that have become radio anthems for the San Antonio hip-hop community.
Cervantes, Peters, and Henry record and perform together as
Third Root
, a hip-hop collaborative based out of San Antonio, Texas that focuses on fusions among Black and Chicana/o culture and identity.